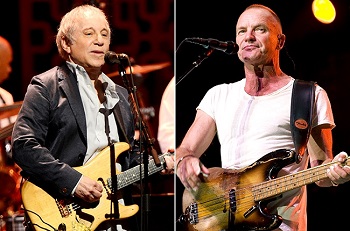 Sting and Paul Simon are preparing to take turns singing some of each other's biggest hits. It was Simon's idea for the tour, hatched when he came downstairs in their New York apartment building to ask if Sting would be interested. Of course, Sting told him, having first heard Simon & Garfunkel when he was a 15-year-old in England.
Sting said Simon has asked him to sing "Bridge Over Troubled Water," and Sting asked if they could include "America."  "

Simon is eager to sing Sting's songs "Fields of Gold" and "Fragile."

"I think the gentler side of my repertoire interests him," Sting told the Television Critics Association while promoting his PBS special.