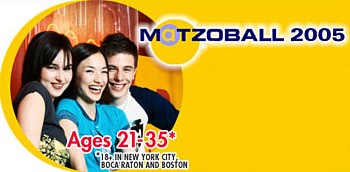 The original, the one and only one, Matzo Ball is back! Now in its 19th year, the Matzo Ball has been called the # 1 Holiday Party in the nation for a reason. Hosted by the Society of Young Jewish Professionals, you are invited to celebrate this year's Matzo Ball at club Lulu's in Washington DC. Lounging and mixing it up with new faces is what it's all about. Get there early to unwind and stay late to socialize. Exhilarating drinks, top-of-the-charts music, and delicious hors d'oeuvres will be waiting, so join us and make it a sexy, carefree night!

Stroll down the red carpet and enter Lulu's Club Mardi Gras, where everyday is a Mardi Gras day. Its beads and token bejeweled environment as well as its large dance floors provide the perfect setting to mingle, flirt and meet someone new.

Enjoy:
*** Cocktails and drink specials
*** Tasty, complimentary appetizers
*** Fashionable, fun loving crowd
*** Hundreds of like minded singles dressed up and ready to party

This event will sell out! Get your tickets now at a discount and get ready to enjoy the Hottest Party at the coolest club in town.
Contact: Tickets at the door
Address: 1217 22nd Street, N.W.
How to reach:
Lulu's Mardi Gras