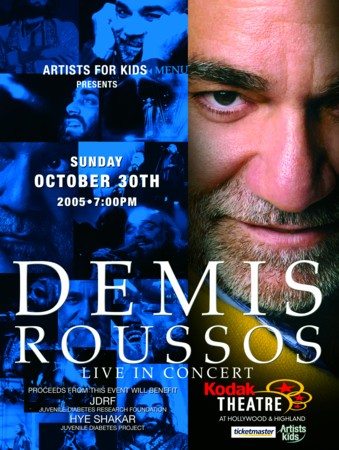 Artists for Kids presents
Demis ROUSSOS in Live Concert

Живущий в Париже египетский грек, сын гитариста и певицы, чей пронзительный запоминающийся голос и сладкие мелодии со словами на "международном английском" были необыкновенно популярны в 70-е и 80-е годы, продолжает оставаться одной из самых весомых во всех смыслах фигур "традиционной" эстрады. На концертах же, как пишет Yahoo! Music, он держится как Зевс, снизошедший с Олимпа.

Demis Roussos is known as one of the most successful artists to come out of Europe in the 70's and 80's. After selling millions of albums as a member of Aphrodite's Child , Demis went solo and began to record songs in a number of different languages. He has enjoyed hit singles in Germany, England, France, Italy and the United States. The Greek crooner is best known in America through his association with Vangelis ("Theme from Chariots of Fire").
Contact: 323 874-8211
• No Tickets