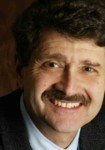 Michael Medved is a film critic, best-selling author and nationally syndicated radio talk show host. His daily three hour program, emphasizing the intersection of politics and pop culture, reaches more than 1.8 million listeners in 124 markets, coast to coast.

Born in Philadelphia, raised in San Diego, Mr. Medved graduated with honors from Yale and then attended Yale Law School, where his classmates included Bill and Hillary Clinton. After working as a screenwrited in Hollywood, he reviewed movies for CNN, and later was chief film critic for the New York Post. He also served for twelve years as co-host of "Sneak Previews," the nationally televised weekly movie review show on PBS. Mr. Medved is the author of eight non-fiction books, including the national bestseller What Really Happened to the Class of '65.

His most influential and controversial work was a best-selling indictment of the entertainment industry, Hollywood vs. America.

Mr. Medved has been a frequent guest on all the major talk shows, including Larry King Live, Nightline, Oprah, David Letterman, Good Morning America and countless others. His columns on media and society appear regularly in USA Today, where he serves as a member of the Board of Contributors. The Medveds live in the Seattle area with their three children.

He began his undergraduate education at Yale at age 16. His classmates in college included a number of future politicians, including Senator John Kerry of Massachusetts, President George W. Bush, Governor George Pataki of New York, and Governor Tony Knowles of Alaska.

His classmates at law school included Hillary Rodham (a friend) and Bill CLinton (who he always disliked), while two of his best friends were Lanny Davis and Greg Craig - both of whom played crucial roles in President Clinton's defense in the impeachment crisis.

Moving to LA to facilitate his work on the boof an TV series, Medved became a member of the Writers Guild of America and worked at several screenwriting jobs, including projects with Barbara Streisand and the late Henry Fonda.

In 1993, Medved was appointed as cheif film critic for the New York Post, but in 1996, when Seattle's talk radio powerhouse 570 KVI offered Medved his only daily three hour show, he jumped at the chance, leaving LA behind after 20 years and indulging his long time infatuation with the Great Northwest. He never looked back.

Michael has been married since 1985 (January 27) to Dr. Diane Medved, formerly Diane Elvenstar, a clinical psychologist and author of her own books. In 1998, the Medveds collaborated for the first time on a literary project, the much-discussed and influential book Saving Childhood: Protecting Our Children from the National Assault on Innocence. They have also collaborated on three children: Sarah (born in 1986), Shayna (1989) and Danny (1992).

It's interesting that more than three years before their first meeting, Diane had reviewed one of Michael's books (The Golden Turkey Awards) in the Los Angeles Times, and gave that volume one on the most critical assessments it received anywhere. For the most part, Michael has by now managed to forgive her.

If you'd like Mr. Medved to answer some of your questions, please email them to us in advance at msegal@jewishla.org.
Contact: (323) 465-0093