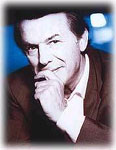 SALVATORE ADAMO
World Tour 2004

Belgium's romantic singer of Italian descent, one of the most successful French-speaking singers of all times, scoring worldwide hits with chansons such "Vous Permettez Monsieur", "Tombe la Neige", "Inch'Allah" ...

During his long career, Adamo has sold over 90 million records worldwide. His period of bloom was of course in the sixties. In 1964 he was the second biggest selling artist worldwide behind the Beatles. After the eighties there haven't been any new major hits, but he never lost "his" audience. Besides a string of hits in the french-speaking countries, a lot of the chansons from Adamo were also translated into Italian, Spanish, Russian ... and even into Japanese. For example: one of the most widely known karaoke classics in Japan is the song "Youki Wa Furu", which is the Japanese version of "Tombe La Neige" (the local "dreaming of a white christmas").

In 1998, and 2001 Salvatore Adamo came back to EMI (the record label he had left in 1975) and recorded the albums "Regards" (1998) and "Par Les Temps Qui Courent". On these CDs, Adamo shows a new side of himself: the socio-political commentator. Adamo wrote about this evolution: "The public knows me as a musical poet, but apart from that I'm also a man of 54 who is concerned about what's going on. You could say there are some songs on the album that I had preferred not to have written." In Belgium and France he had no trouble filling the great concert halls ( such as Olympia or Vorst) many times. In the summer of 2001 Adamo received a knighthood from the Belgian King, as the first popular singer to receive this honor.

In 2003 Polydor released his newest CD "Zanzibar" where Adamo comes back to his romantic roots with 14 beautiful songs. Many critics say that these songs are among Adamo's best creations yet.

This tour to the USA is part of a larger Salvatore Adamo World Tour 2004, dedicated to his 60th anniversary, and will include concerts in Borgata, Atlantic City; San Francisco, Chicago, Miami.

Address: 1600 Dodge Ave